Innovation
Technological Innovation is a key driver for Oxhey Hall. We have the knowledge and experience to maximise the use of technology to bring advantage and efficiency. Our in-house development capability allows us to tailor our solutions to meet client needs.
Innovative Approach
From building custom databases and modelling complex data, to ensuring the efficient and accurate collection of survey data, Oxhey Hall have the capability to develop solutions for a wide range of needs. Combining this with our in-depth hard services knowledge and commercial expertise, it makes a powerful offering.
Mobile Tablet Survey Solution
Our tablet survey solution is developed in house with our surveyors to ensure consistent high quality output, saving up to 50% of survey time over traditional methods.
Time Saving: up to 50% of survey time saved over traditional methods
Oxhey Hall In-house Product: No licence fees
Efficient: Dynamic forms prompt surveyor for specific information per asset type
Customisable: Ability to use customer-specific categorisations or location data
Photos: Multiple photos automatically attached to relevant asset detail
Asset Tagging: Multiple methods of asset tagging supported
Consistency & Integrity: Full validation controls to ensure accuracy of data
Offline Use: Fully usable offline for no-signal zones
Reporting and Data Modelling
Our portal is fully customisable to reflect the reporting requirements and of each commission. Extensive import and validation tools are provided to centralise information, facilitating regular review and cleansing. The data is your data and is made available for import into CAFM systems or standalone asset management databases.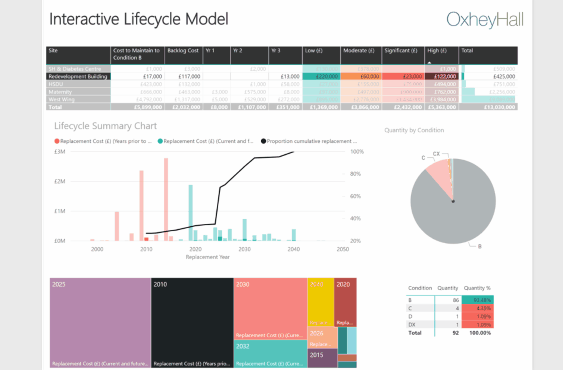 Portal: Secure central online facility for access and analysis of asset information
Cleansing: Simple online tools available for validating and cleansing captured data
Modelling: Ability to model lifecycle data to inform capital expenditure and investment decisions
Output: Standard exports plus customisable output in customer formats, including charts and asset photographs
All reports can be exported to PDF, Word, Excel, .csv or custom client requested formats. Reports include a variety of embedded information including photographs, text, charts, etc.